Fundraising
Ready to make an impact? Every dollar makes a difference in providing highly specialized, compassionate, family-centered care customized to the special health needs of children.
Create a page
Ready to go?
Tips
How to make a page
Customizing your page is straightforward — and so important. The more detailed and personal your story is, the more likely it is someone will be moved to give. You can have the biggest fundraising impact by sharing your story in words, pictures, even video.
Download our step-by-step guide
How to encourage donations
Asking for donations may feel daunting but it's easier than you think.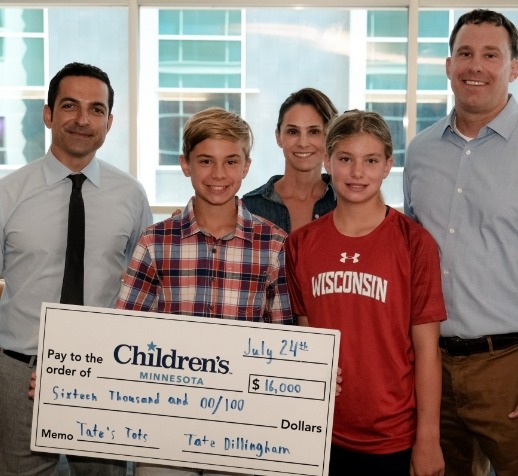 FAQ
Who do I contact for help, questions or additional resources for my campaign or event?

What will my donation fund?

At Children's Minnesota, your donation is spent on the kids and families we serve. As an independent, nonprofit health care system, philanthropic support allows us to reinvest in our organization and continue to improve and reimagine health care.

You can decide what program you would like to support. Here are some of the top fundraising programs. Neonatology, cardiovascular, neuroscience, cancer and blood disorders, child and family services. Can't decide? You can also support the most urgent needs of the hospital.

How do I set up my page?

Can I see examples of other successful campaigns?

What is a reasonable fundraising goal?

How do I ask for donations?

How do I find a report for all donations?

While on the REPORTS tab, click View Donors, then click the Export Donations button.

Can donors pay with check?

Yes, checks should be sent to the Children's Minnesota Foundation at the address below. Our staff can add these donations to your fundraising page. Please include the name of the fundraiser in the memo line of the check.

Children's Minnesota Foundation
5901 Lincoln Drive
Mail Stop: CBC-3-FOUN
Edina, MN 55436

How do donors get a receipt?

When donors make a gift, they will automatically receive a Thank You email from Children's Minnesota which includes a receipt. You will also receive an email notification when someone donates.